If you have been following my blog or any of my Social pages… you already know that
I LOVE WORKING WITH COPPER!

When I first started taking metals classes, copper was used as the 'learning' metal.  Meaning 'work with copper to get the feel of metal and what you can accomplish' . Once past the learning curve, then venture on with Silver and/or Gold.
However, with the incredible price increase  for gold and silver, many jewelers have discovered the fun and beauty of working with pure copper…. like me!
Here then are 3 of my favorite patinas for copper. 
FLUX:
I  created this by accident. When working with silver you must coat the metal with flux before heating. This prevents firescale.
This is not necessary with copper but I was multitasking (not always a good idea when using heat!) and ended up spritzing the copper with cuprinol. (a spray flux).  The result is this reddish mottled effect. I just love it! 

  

PEANUT OIL:
This one is a little trickier to work with. I brush peanut oil onto the copper. A VERY Thin Coating. Then I heat from BELOW the piece. IF you heat from above you run the risk of setting the oil on fire!  The resulting colors are brownish caramel tones.

Please note that although I do treat all of my designs with a lacquer, this patina is NOT recommended for any person allergic to peanuts.

 There are other oils that give a similar effect. Sesame oil is a potential option.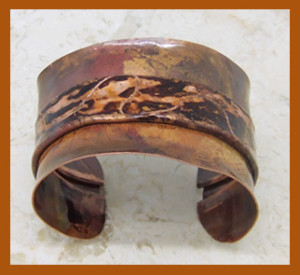 VINEGAR and AMMONIA:
The most vibrant blues and greens are created with this patina. I coat the copper with vinegar and keep an open smaller container of ammonia inside the larger closed bin. That way the fumes from the ammonia mix with the vinegar to create amazing blues and blue/greens.