Yes, Red does the trick when you want someone to notice you or your online/printed materials. 
Just be careful how much you use. A bright red dress or suit will certainly attract attention… but did you want THAT much of it?  Most of all using touches of red is a better option. This creates passion and excitement without overpowering others.
Wear a red statement necklace, tie or scarf . Red Shoes are a terrific option.
RED is an emotionally intense color

. When you see red, your heart rate increases, breathing speeds up and you are ready for action. In addition it is a strong color that is associated with passion and excitement.
Red is a power color. Most noteworthy is Red Carpet service… geared towards VIP's.  In China, Red is the color of happiness and prosperity. Consequently red suggests confidence, speed and even danger. (the traditional RED flag as a warning)
Is Red YOUR favorite color? Then you are:
passionate and fiery

action oriented

An Optimist

Love Excitement

Light up a room when you enter
Sounds good so far, right?  Here are the downsides.. You
crave attention

are easily bored and easily angered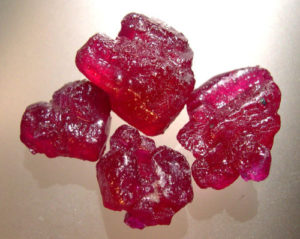 I use red sparingly in my designs. You guessed it.. my favorite color is NOT red!  I tend towards the deeper oranges and browns. That being said, once in awhile wearing a bright red necklace makes me feel good about myself.
Some of the gems to consider for your touches of red are Rubies and Red Coral. Keep in mind that most Red coral is actually dyed . Most natural red coral is depleted or  protected from harvesting. This tiny fact does not diminish the beauty though.
Go ahead… break out that RED accessory you have been keeping in the back of the closet. Then watch are you are showered with attention.    
Did you like this post? then, read The Color Blue.
 Sign up today for Alerts from Alene. Get First Look at new designs and Subscriber-only specials and discounts