Last month I had a rare experience. I was not interested in doing anything. This feeling dragged on for several days.
Have you ever felt this way? Can you relate to my mild case of depression?
Anyone who knows me understands how unusual that is. I am normally the person some will compare to Pollyanna. Happy & Enthusiastic- always with several projects and events in motion. Finding myself in this situation was not fun. Furthermore I had no reason to feel this way. Life in general was and is good!
During this week, I watched endless episodes of Midsomer Murders  on Netflix,  (and there are NINETEEN seasons) worked hundreds of online 
puzzles, ate bowls of popcorn and slept a lot.  
Pretty boring, right? Nothing at all seemed to hold my interest or pique my enthusiasm. My social media presence was non existent. I did not spend any time at the jewelry bench either. No new creative ideas were forthcoming.
The good news is: I REALIZED I was not myself and realized I did NOT want to be this slug of a person anymore.
Writing down ways to bring myself back out of the funk seemed like a good first step.
Once I had the list, I chose ONE thing and FORCED myself to accomplish it. It helped to know that the task was all I had to do that day. After that Netflix and popcorn awaited me.  This first day was agony. I did NOT want to be hurled out of my funk at all.
Day two was a little better. my task for that day seemed surmountable. Which was great news, right?  My preference was still to veg out.   Each day it became easier to accomplish something. My eagerness, while not fully at full force, was inching it's way into my existence.  By the end of the week, this process edged into my life and brought me back into the human race again. Ideas started to flow again. I had managed to release the funk.
Please understand that this was a mild case of depression that I experienced. One week was enough time to make a difference. In cases where we have let the depression get worse and last longer, of course more time and professional help is recommended.
Here's my list
Meditate.

This was the first task I chose to do. Calming my mind and letting my body relax worked wonders. Two meditations in particular that I like are Getting Into the Vortex – Abraham-Hicks and Grounding Earth Energy – Candess Campbell
Go for a walk

.  It felt so good to get my body moving again. Once I made the decision to walk, I was all in.
Make a salad.. eat the salad. chopping up veggies and preparing the salad was very calming. The repetitive chopping took my mind off my lack of enthusiasm.
Work out with weights. stretching and toning my muscles was enlivening. I could feel myself coming out of the funk.
Get a massage. OK. this is something I do for myself on a regular basis.
Write in my journal

.

Journal writing had become a ritual that I abandoned over the last couple of years. Getting my thoughts in writing put many issues in perspective.
What other suggestions work for you. I would love to hear about them.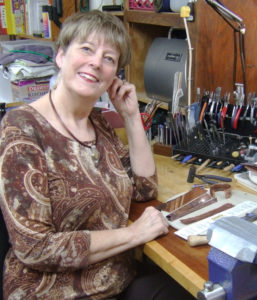 Here I am at the jewelry bench again. Happily designing new collections! You can check out and purchase my designs here.