Did you ever wonder how a designer creates?  Where DO those ideas come from?
Here's a little insight from my perspective.
First of all there is no typical day at the jewelry bench. I may be creating pieces for a wholesale order, working on a new collection, learning to use a new piece of equipment or putting finishing touches on a custom order. But the BEST day is one where I have no project or job to complete. Then I get to imagine, envision, explore, play and have fun.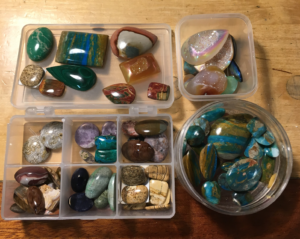 One of my favorite things:  place many of my loose gems on the bench. As you may or may not know, I make the trek twice a year to the Tucson Gem show. While I have enough gems and stones to last a lifetime, I always seem to find something new that catches my eye.  This is but a sampling but enough to get my juices flowing. Should I combine one of the druzy quartz designs (upper right) with Red Creek jasper?? or perhaps the rich blue of the Peruvian opal (in the round container) will enhance it?  I could spend an hour or more just playing with all the options.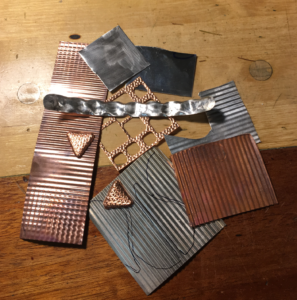 Once I have zeroed in on a couple of potential combinations, it's time to work on a design.  I may start with paper and more likely I start playing with piece of silver or copper that are in my bin awaiting inspiration. It is OK to use a magic marker to rough out a design. Once heat is applied the sharpie marks disappear!  I become immersed in this process too. Ultimately I may decide upon a potential design. But it is also possible that the selected components are kept together and saved for another day.
As the day ends my mind is spinning with ideas long after I have left the Jewelry Bench. That's the great thing about taking time to play. The creative ideas continue to flow.
Creativity takes many forms. You don't have to be a jewelry designer to appreciate the advantages of taking time to play and imagine. Every one of us can dream, explore and blossom into the person we want to be. Just try it!