It happens to me all the time.
In the morning, I put on one of my rings; lo and behold…. it is too
tight

.

Seriously? it fit me last week? and I am pretty sure that weight gain or loss has marginal effect on the fingers. This ring is a good example. I wore it yesterday as shown and today it was too tight. 

Don't have a clue what all the reasons are for swelling of the fingers. Sometimes it is just the humidity that day. Perhaps it is affected by our hormones, or by certain drugs we start taking. 
All I know is that this phenomenon pushed me into designing my rings so they can be adjusted up or down a size. In this example, this feature allowed me to stretch the band slightly so the ring fit my fatter finger. YIPPEE!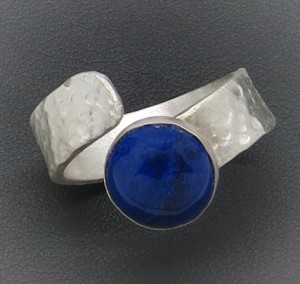 My Rings Collection is comprised of 80% adjustable (yet classy and rich looking) designs.
The design to the left (silver and lapis) gives you the options of pinching or stretching the band slightly to fit your finger of the day.
These wrap designs are my favorite though. The adjustable feature is more subtle. So much fun to create. Copper rings are also designed primarily in this wrap design.
So on your next 'FAT FINGER' day, remember this post and check out my designs at Alenes Adornments.
IF you enjoyed this post you might like. Jewelry Clasps; The bigger the better