Howlite  is a beautiful white gemstone with black veins or inclusions. I call it the great pretender because some (not so reputable) dealers dye it and sell as turquoise, coral or lapis. It has also been mistakenly marketed as white turquoise. Howlite is a very porous stone. This is one reason these fakes can be created. Mostly the suppliers in the USA, Canada and the UK will not market the dyed stones.. or will disclose the information before purchase.
Natural howlite is used in artisan designs, mostly to complement other gems such as onyx.  I used this gem early in my artisan career but have migrated to other less porous gems. They are not as susceptible to scratches and tend to hold up better over time.
Howlite was named after Henry How. He discovered it in 1868 in Nova Scotia. Subsequently the gems were found in California, Turkey, Germany and Russia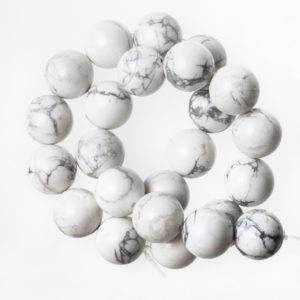 Wear this gem to balance calcium levels. additionally it is said to absorb rage and anger when worn!