Once a year Tucson Arizona is home to the single largest gem show in the world. Exhibitors and buyers descend upon this mid sized town virtually taking over every venue in the city. In all there are 44 different shows running simultaneously.  Each show has it's own niche. These vary from loose beads, finished jewelry, minerals or geodes and much more. Many are wholesale only shows and a few are open to the general public.
I have the pleasure of attending this eve

nt.  Tucson is a short 2 hour drive from my home. With the added advantage of Tucson relatives, I get to avoid the hassle of trying to find hotel space too.  My two favorite shows are the JOGS Show and the

GLW Sh

ow.  Both are

w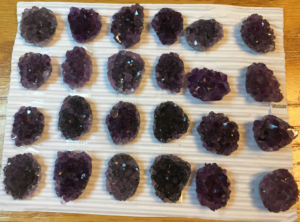 h

olesale shows

.

They cater to the type of product I purchase. (cabochons, silver findings, display materials). FYI, these two shows alone feature over 800 booths!  After so many years I know many of the vendors. This makes it easier to find what I am looking for.
That being said, I always LOVE finding something new. This year  it was Amethyst Geodes from Uruguay.  I cannot WAIT to get these bezeled and into a design!
I was also able to find some new display materials. I am excited to add these to the Shops who carry my designs.  I love the earthy, wood finish.

Last but not least, I took a metals class this year. This new cuff design appeals to me so much.  I a

m poised to

create many variations from this template. Can't you just envision a cuf

f

 in sterling with a gemstone?
Time to get to the bench and start designing. 
Hope you enjoyed my thoughts on the Gem Show!