Do you love jasper as much as I do?
Jasper is a variety of quartz found on every continent on earth.  
It is known as the nurturing stone. Because this gorgeous stone contains takes on many impurities during it's formation, the gem is always opaque. It's good to note that the impurities are what create the spectacular colors and designs!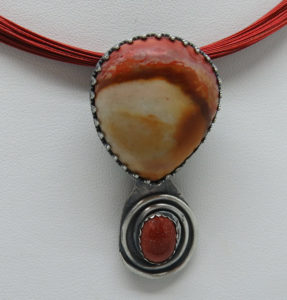 Endless varieties of jasper are available today. They are mined across the globe. Moreover, each variety features the design that the impurities helped create. Two of my favorites shown here: Picture Jasper (to the left)tends to be lighter in color and resemble mountain landscapes. Madagascar Jasper (to the right)has richer and more reddish inclusions.  
More fascinating facts:
The Babylonians b

elieved that jasper was a female stone and and a symbol of childbirth. 
Native American cultures used jasper for rain making.
Metaphysically The stone is said to bring tranquility, comfort and relaxation to our soul.
Many believe that jasper can align all our chakras.
Lastly I mention my all time favorite jasper.. Red Creek Jasper. My online store currently features 7 designs. I love it so much that I dedicate an entire post  to this one variety.