Ever since I can remember (long before I started designing jewelry)  I have been frustrated by the tiny clasps on jewelry. Seriously, how are we supposed to get these hooked? 

 

Especially since they are on the back of our neck.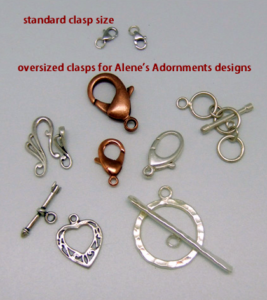 I used to move the mechanism to the front and look in a mirror. Not an ideal situation.. and sometimes this does not work. Even having a spouse or significant other that can perform the task is not a great alternative. Is this person always handy when you are getting dressed?  Do they have delicate fingers to perform this task? 
Way too many variables. What happens if you are single (as I was much of my life?) Do you call a neighbor over? or wait to put on your necklace until you get to work?  Silly, right?
I wonder? Who decided that tiny clasps were a good idea?
Once I started designing my own jewelry, I knew that larger, easy to use clasps were essential. 
Huge toggle clasps, Gigantic lobster clasps and easy to use hook clasps create less stress and make the task of donning  jewelry fun again.
The styles here are examples of what I use instead. The clasps at the top are the typical smaller lobster clasps you see on most jewelry.

effectively.
Another option I have played around with is placing the clasp in the front and making it part of the design. A lot of fun to create and to wear!  I use a very large clasp for this design

.
How about you? What is your favorite clasp? Can you share any horror stories about your experiences with tiny clasps?  I would love to hear them!
SIGN UP TODAY for Alerts from Alene. Get First-Look at new designs and subscriber only specials and discounts.