Do you own a cat? Or more appropriately .. does a cat own you?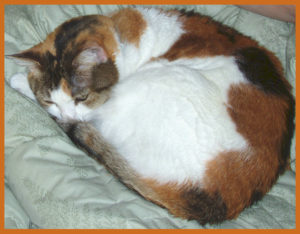 I have had the privilege of sharing the last 25 years with these lovable felines. I discovered that they teach us a lot about being human. Yes, you heard that right. An animal can teach us how to be human.
Be curious about everything.
If I open a cupboard or a door, my kitty is inside exploring before I even realize it. One day I was rearranging some things in the kitchen. I opened a lower cabinet door and left momentarily to find another dish. Upon my return I closed the door before moving to another room in the house. About 10 minutes later I heard muffled sounds. I assumed they originated from a cat outside, so went on with my project. A minute later the sounds got louder. I opened the cabinet door and out popped our kitty! All cat owners have their own multiple experiences like this.  So much fun.
Feel comfortable in your own skin.
Ever watch a cat stretch out, curl up or turn over on it's back? Our kitty Button could care less what we think about her movements. When the spirit moves her she acts in any way she so chooses. As someone owned by a cat, I experience a calm when I observe this behavior. Button is OK in her own skin, so why shouldn't I be too?
Always Include Play time in your day.. or night.
Kitty Button plays constantly. The simplest toy can get her juices flowing. Right now her favorite toy
Share your love with others
When a cat loves us we are rewarded with a delicately placed paw on our hand or foot. Or they sleep right on top of us. What an amazing feeling to experience this love. We all have the ability to share our love with those around us. A smile to a stranger, a compliment to a friend or acquaintance. These simple acts can make someone's day. Don't you love it when you are the recipient?
I hope you have enjoyed these Meows of Wisdom. Now go out and have some fun!