Happy Birthday to all Scorpio babies!  This means YOU if you were born between October 23rd and November 21st.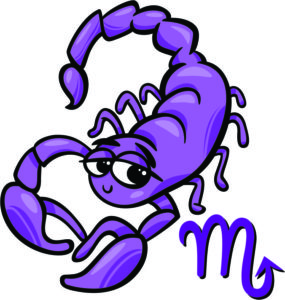 Ambition and determination are key traits for people born under this sign. Most feel the need to be in control. Scorpios tend to choose jobs that give them this freedom. In addition this sun sign lends itself to people who want to make a difference in the world. If you have a Scorpio in your life, you know how loyal they can be. Since they go to extremes, though  your Scorpio friend or partner can become jealous and suspicious very easily.
I have known a few Scorpios in my lifetime.. including my late brother. Bill always had to be in charge. He was certainly dynamic, intelligent and talented, but his stubbornness and need for control led to many unpleasant encounters with others.
Positive Traits in a nutshell:
passionate (love this one)

resourceful

loyal – a great friend

persistent. These people never give up!
The other traits??
jealous

unyielding

stubborn
Now on to the FUN stuff!!  Gemstones associated with your sign.
Hematite; offers patience and peace of mind. The Scorpio who wears this gem tends to be more trusting of his partner.
Jasper: Jasper's frequency is slow and constant. Wearing this gem helps balance the extremes in a Scorpio personality.
Calling all Scorpios!  Are these traits the real you?