Purple Rocks! 
Why? Because this vibrant color makes us feel luxurious and rich! Purple combines the energy of red and the calmness of blue. It is furthermore associated with spirituality and the higher self.
Purple's elite status stems from the rarity and cost of the dye originally used to produce it.
Historically purple is considered the color of royalty. Purple was expensive and as a result only the wealthiest people could afford purple garments. In fact, Queen Elizabeth the First had forbid anyone except close members of the royal family to wear it. To get one ounce of purple fabric, the mucus from 336,000 spiney dye-murex snails had to be harvested.
Is purple your favorite color?  If so you 
have a great imagination

are compassionate. You love participating in humanitarian projects.

love to inspire others with your creative and positive approach to life
OK, there are a few less than terrific traits too ..you
Amethyst is a natural example of rich deep purple. I adore working with this gemstone.  Here are a few of the designs I have created using
gorgeous amethyst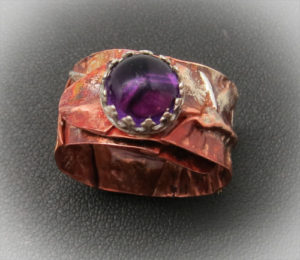 Now go out and find some purple to wear!