I know what you are thinking now… What IS a cabochon and why would someone be crazy about them?   Here's the simple answer to both those questions. 

A cabochon is a gemstone that is highly polished, raised and rounded but not faceted. It features a flat bottom.
The word is derived from the middle French 'caboche' meaning head. 
Now for the other question. Why Am I Crazy about them?
First –  they are gemstones. And I LOVE all kinds of gemstones.

Second – these gemstones have flat backings

so they can easily be set into a bezel. That being said, there is an art to setting cabochons.  This skill emerges with lots of practice.

Third – they are addictive!

Cabochons are particularly good when the stone is softer. The faceting process in this case would create more scratches and damages to the stone.  

Gems, like this Tigers Eye requires this kind of shaping in order to show off the lighter shades , or the eye. this applies to sapphire too. The star inclusion would not be visible in a faceted gem.
The photo of my cabochons shown throughout this post give you an idea of the versatility and range of shapes. A few years ago I had the opportunity to purchase a large quantity of stones from a jeweler who could no longer work (due to his failing eyesight). Over the years he had not only accumulated many cabochons for his own business… but he had done much of the lapidary work as well. I am so privileged to have this collection to use in my own designs.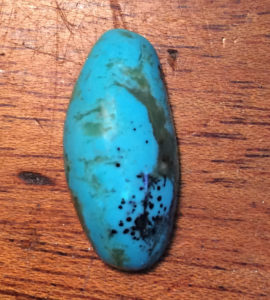 This turquoise cabochon is part of the collection. You can see the original stone and ultimately the jewelry design that now proudly houses this amazing turquoise specimen.
Just in case you think I already have enough gems to last a lifetime (you are right of course)… I always seem to find some new treasures during the GEM SHOW in Tucson twice a year. 
When something catches my eye my mind starts spinning with ideas on how to use this in my designs. Then I am hooked and happily purchasing more and more.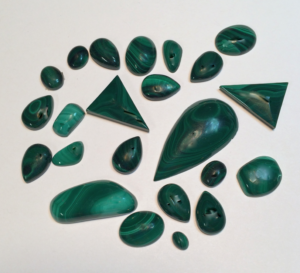 Someday, I am sure the remnants of my collection will be passed on to another emerging artist. He or she can experience the same joy and passion I feel every time I look at my cabochons and decide which ones will be incorporated into my next masterpiece!

Visit my Web site today to see more designs created with cabochons