Malachite is the rich deep green gemstone that is often seen in Southwestern Designs.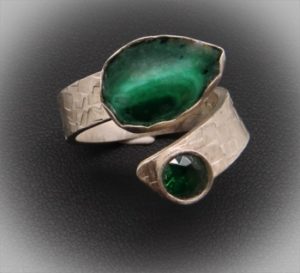 It is always found mined with copper…. which is why you often find malachite settings in copper. The two are just meant for each other.
 Malachite is derived from the Greek malakos, meaning soft.  
This gemstone is one of the softer stones so it needs to be set into pieces that won't get a lot of wear and tear. (not that any jewelry survives much bumping and scraping)  Pendants, earrings and bracelets are great for the most part. Rings are a little trickier.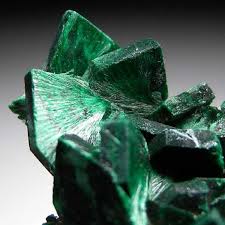 Did you know that malachite is considered one of the most important minerals in humankind history?
Around 4000 BC it was discovered that heating malachite in a hot flame reduced it to native copper. This first smelting of metal from ore led to searches for other ores and the development of metallurgy!
That being said.. I just love the BEAUTY of the stone. the black inclusions add such character.
Ancient Egyptians ground malachite and used it in wall painting and as eye makeup.  It was believed to ward off eye infections when worn.
Malachite is considered a protection stone. When worn it absorbs negative energies and pollutants from the atmosphere. It is even said to encourage emotional growth and change.
All in all, this spectacular green gemstone is something to treasure.