Geodes are one of nature's finest gifts to us. Officially a geode is defined as a rounded stone with a hollow center that is lined with crystals.
Amethyst is my favorite. Especially the darker purple rocks. Did you know that if too much heat is applied to these geodes, the purple tends to lighten and even turn yellow? In fact many people mistake overheated amethyst for citrine. Both are quartz but not the same!
Enough of the history lesson. Now on to the important stuff.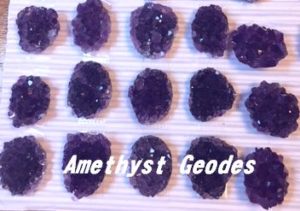 Last year at the Tucson Gem Show, I found a supplier from Uruguay that offered smaller amethyst geodes. I was so drawn to these smaller gems! My mind started spinning, dreaming of the designs I could create using these tiny crystal structures. Of course I purchased these beauties.
The challenging part was figuring out how to best encase these gems to show off their beauty and protect the crystals.
Voila. Here are the first designs off the bench. Enjoy. And yes they are each available for purchase.