Ever wonder how we Artisan jewelry designers make our rings so round?? 
How do we determine the sizing?
I use two secret weapons. OKAY actua
lly these are specialized to

ols. T

he first is this ring shank (officially called a mandrel but often

referred to as a shank)  The mandrel is made of the finest quality steel. It's calibrated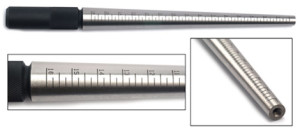 along on

e side so I can determi

ne the size of the ring.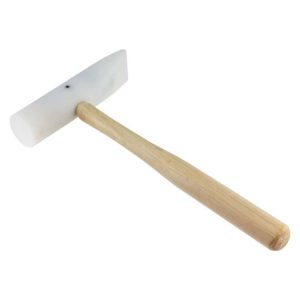 The second tool is this Delrin hammer. Delrin is  a thermoplastic material used in precision parts. Since it is non-marring, I hammer away to my heart's content. This hammer does not leave any marks on the metal, nor does it skew the metal.
Here is the process I use to design rings.
Cut the metal to size.

Stamp the back with my Alene branding (and the .925 if the metal is silver).

Add texture or fuse metal to the shank

Anneal it (heat it until the metal softens)

Insert the mandrel into a vise or other holding device to keep it stable

Form the metal around the mandrel to round it properly.
Here are two of my new designs.  See all ring designs currently for sale here.
Want to know YOUR ring size?
Download the template here.